A Christmas Carol
By Charles Dickens
Performed by storyteller Robert MacCall
With Ian Baxter on mandolin.
St Lawrence Church, Oxhill
Tuesday 12th December 2006 7.30 pm
Tickets £6 adults £4 children under 16. Suitable for all ages from 8+
Taking his inspiration from the public readings of Dickens himself, Robert MacCall gives a costumed performance true to the original text, perfectly complimented by Ian Baxter's playing of traditional carol music on mandolin.
Prepare to be transported back into the world of Ebenezer Scrooge, Bob Cratchit and Tiny Tim, as they come vividly to life in this powerful performance of Dickens's classic tale.
It is Christmas Eve and Scrooge is in his counting house being his mean, nasty self. But things are about to change. At night he is terrified by a visit from the ghost of his former business partner, Jacob Marley, who warns him to change his ways or suffer for eternity. He is visited, in succession, by the ghosts of Christmas Past, Present and Future who show him as he was, as he is now and as he will be, if he doesn't change.
The perfect family entertainment to get you into the real spirit of Christmas.
A heart-warming story of transformation.
"Told in a very convincing way. Not to be missed."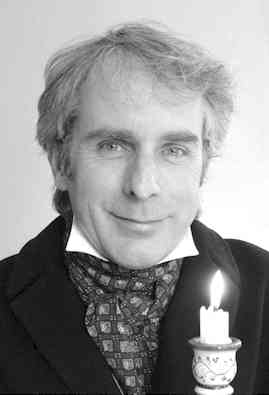 Robert is an experienced storyteller. He trained at The School of Storytelling, Emerson College, in England and has been telling stories professionally in England and Germany since 1999.
Ian has been playing the mandolin since the age of 16 and is now playing his seventh, made from the wood of an old whisky barrel. He and Robert have been working together since 2004.