Deanery News
Suddenly, Harvest is upon us: this month and next I trust you will be able to enjoy thanking God and celebrating all that he has so bountifully given us around here, and also think long and hard about the ways that we in turn give of that bounty to those who have so little.
Mid-way through September, there is the 'Reconciling a Wounded Planet' Conference at the Cathedral, on September 18th and 19th for all who are concerned about our use of the earth's resources. For more details, look on www.reconcilingawoundedplanet.com
In October the Dean of Coventry, Very Revd. John Witcombe will be our guest at the Deanery Synod on October 6th, at 7.30pm at Butlers Marston Church. Later that month Bishop John will be leading a Quiet Morning at The Old Chapel, in Oxhill, on Saturday, October 31st, 10.00am – 1.00pm. Everyone is warmly invited to both of these events.
A Prayer for Harvest, from Christian Aid.
O God,
you have made us creatures of this earth,
hungry and thirsty and needy,
that you might satisfy all our longing with your abundant love.

Satisfy the hunger of our bodies for food and shelter,
health and human touch.

Satisfy the hunger of our spirits for dignity and freedom
in giving and receiving.

Satisfy the hunger of our minds to understand the world,
the reasons for its pain:
the ways we are connected to each other.

Satisfy the hunger of our hearts
that all who share this loving earth with us shall share our satisfaction.

And satisfy the hunger of our hands to help you make it so.

Through Jesus Christ, Amen.
Harvest Festivals will soon be upon us: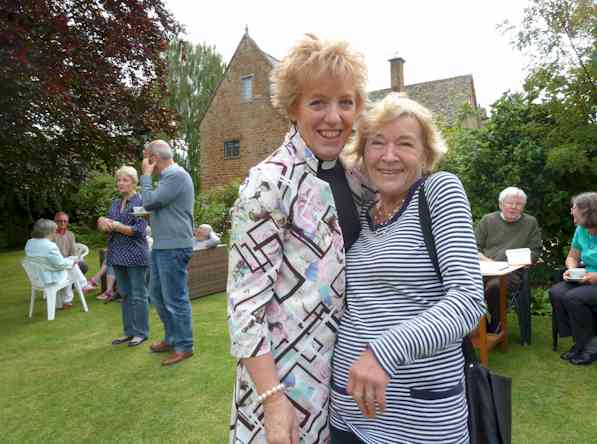 in Oxhill as part of the celebrations, there will be a Messy Harvest in The Old Chapel on the morning of Saturday, September 19th, between 10.00 am and 12 noon. All children and their carers are warmly invited to come along and help make the Harvest Display to go in church for the following week, to spend some time thinking about Harvest, and most importantly to have something to eat and drink. If anyone else wants to pop in and see what is happening, and also have coffee and cake, that would be lovely.
Those who enjoy singing with the Festival Choir will know that we have been invited to sing at all three Harvest Festivals:
Whatcote at 6.30pm on Sunday, 20th September; Oxhill at 6.30pm on Sunday 27th September, and Tysoe at 11.00am on Sunday 4th October. No one is expected to go to all of them, you will be pleased to hear, but hopefully some of us can get to each of them. Music will be much the same in each case, and rehearsals will be on Wednesday, September 9th at 7.30pm in The Old Chapel, and then again the following week. Look forward to seeing you all there.
Finally, two new events as we seek to develop a rhythm of prayer in the Benefice:
· From October onwards, there will be a short service of Holy Communion in one of the Churches at 10.00am. The pattern will be:
o 1st Wednesday, Oxhill, at Oddcote, the home of Janet Gardner (then coffee in the Peacock)
o 2nd Wednesday, Tysoe Church (then perhaps coffee in the café)
o 3rd Wednesday, Whatcote Church, then coffee in church
o 4th Wednesday, Tysoe Church, as above.
For October, this means October 7th in Oxhill, 14th in Tysoe, 21st in Whatcote, 28th in Tysoe.
· Also, beginning in October there will be an informal 'house group' meeting in The Old Chapel, Oxhill, for anyone from across the Benefice. We are planning to study The Lord's Prayer using the Pilgrim Course as a base. To begin with, this will meet every month on Mondays, at 7.30 pm:
o Monday, October 5th
o Monday, November 9th
o Monday December 7th
Anyone from across the three parishes is more than welcome at any of these, as we seek together to listen to God and meet together around his table.
PS can anyone think of a better name than 'house group' when we meet in a chapel?
Every blessing, Jill