Tysoe Church of England Primary School
End of Term Update
It has been a relatively short but action-packed term at Tysoe School. Many reading events have taken place based around World Book Day. The children and teachers enjoyed dressing up as their favourite book characters and the school held a successful book fair. Class 3/4 were thrilled to have Alex Paterson, a local book illustrator, explain the process of developing illustrations for a book, from pencil sketches to the final print. He demonstrated his talent, including how to draw figures and was very generous with his time.
The creative arts continue to flourish, particularly with many musical opportunities. The recently formed school orchestra gave their first performance and the standard of play for this concert was brilliant. Well done to the children who played saxophone, flute, violin and clarinet. Two further special assemblies featured children performing on drums and guitars. All music lessons continue to be very popular.
Several trips have also taken place this term. Class 1 had an informative day at the Herbert Art Gallery and many children agreed that the highlight of the trip was making a clay sculpture. Class 6 have become experts in class about the Ancient Greeks and enhanced their learning with a memorable visit to the British Museum in London. Having made their own Greek pots in school, they were surprised to view the large orange and black pots decorated with the same clearly recognisable athletic figures.
Several classes have been out and about in Tysoe village. Reception class enjoyed a visit to The Tea Room where they took great delight in ordering a drink and cake, hot chocolate being the most popular. Several children wrote thank you letters after the visit. Class 3/4 were fortune to have lovely spring sunshine when they carried out map work and an environmental survey in the village. Their findings also prompted the writing of letters, so litter-louts beware!
Class 4/5 experienced a Victorian Day with the classroom set out in rows and many activities taught as in Victorian schools. The children dressed up as different characters, including rich workhouse children, and even a chimney sweep. They also played traditional games at playtime to enter into the spirit of the times.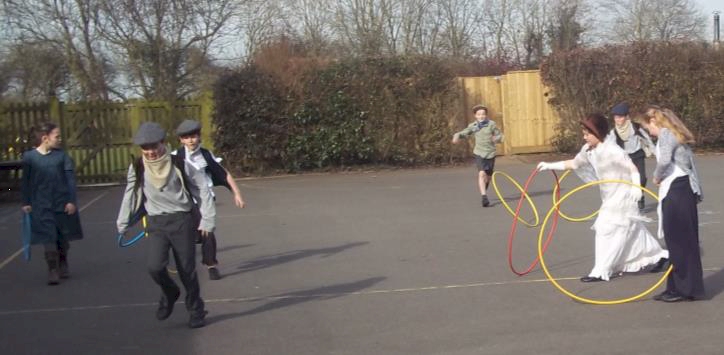 The term ended with a celebration of Easter at St Mary's Church, led by Reverend Leaton, with all the classes contributing to the service.
There is always the opportunity for any prospective parent to visit and see the school in action. Please contact Mrs Horrocks on 01295-680244 to make an appointment.
Jenny Coates
Head of School